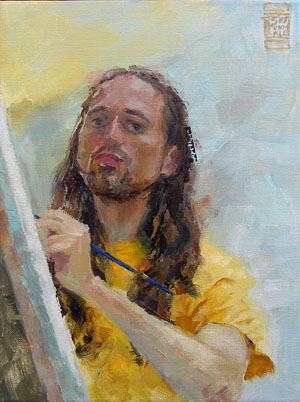 I was born 1977 in Dresden, Germany. I am painting as long as I can think back - and still struggle to get better every day.
My hometown certainly influenced me, since art (especially romanticism and realism) has a high popularity in Dresden, with lots of high quality museums showing great works.
For 10 years I was working in the video games industry - which is tough work, but a blessing. It forced me to learn about the rational side of art - how to explain and create what people consider beautiful or impressive. The industry is also full of inspiring artists to learn from, that drive the digital medium to its extreme, opening new kinds of art.
Thanks to this inspiration, and the free advice so many of these artists give, I was able to learn a lot without formal art education. Art books by Richard Schmid, Bridgman, Loomis, Quiller and many more are a great way to learn from the best.
At the moment I live from my paintings in Amsterdam, which is another big influence on me - its a great place to be, surrounded by great art and artists.
My blog and gallery page is at: www.oxpal.com